From a price standpoint alone it is enough to take one aback; however, for the true aficionado the technical execution is to be considered as well.

I started my collection primarily with chronographs, adding some other interesting devices along the way. Being a former manufacturing engineer / turned air-traffic controller, the mechanisms and power sources interested me foremost. I started with several quartz watches, moved to an automatic, tried some Accutrons (which I still feel to have one of the most ingenious movements ever made), looked at Hamiltons, etc. I found myself constantly coming back to the automatic movements - I guess I find just a little bit more 'soul' in an Automatic. Before the flames start, No – I am not forgetting about handwinds. ;-)(Notice the Gruen) Several automatic chronos eventually found their way into the stable.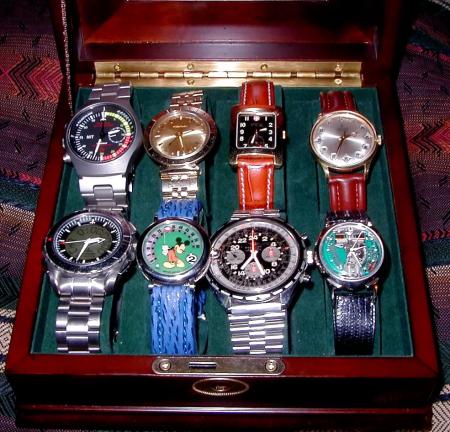 Once I had settled my interest on mechanical matches, it was a natural progression on to added complications. I already had several chronographs. An Explorer II and a Breitling Cosmonaut answered a need for secondary and alternative time displays, and a Gerald Genta golfing Mickey fulfilled my need for whimsy. I next moved on to a JLC Master Moon.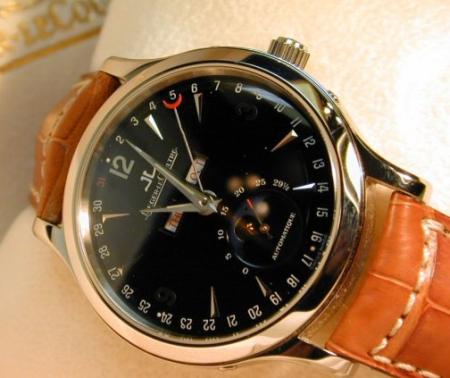 The Master moon was a nice watch. I really liked the moon-phase display and the fine work on the movement. The triple date was nice as well, especially considering the weird shifts I work and how easy it is to lose track of the days / dates, but the watch was just a little too cultured for my tastes. I come from a blue-collar background and I only wear a suit once or twice per year – a dressy watch is not a high priority for me.
I started looking at perpetuals, but found that the majority of them were as dressy, or even more so, than the JLC. I was also concerned with the legibility of the sub displays. My aging eyes had trouble with the JLC's day and month indicators and many of the other watches I saw, such as the Novocento, were even smaller.
I had seen a Big Date first on a Lange and thought that it was pretty cool. When I first found the Glashütte Klassik and Karee perpetuals with the big date I was intrigued. I actually came close to buying a Klassik moonphase with the Big Date that I saw on the Sales Corner, but I held off fearing that it would be to dressy. I also had been eyeballing the Ulysse Nardin Acqua Perpetual, but preferred having a moonphase over a year readout.
Once I saw the Navigator, I was hooked. It seemed to have everything I needed – Big Date, incredibly legible sub indicators, in-house movement, more of a sporty look, etc. Additionally, this was a limited edition watch, but is that good or bad? I had mixed feelings on buying one. Intending this to be a regular use watch, the exclusivity of the limited edition is somewhat wasted on me and would probably be better appreciate by a 'collector'. Also, a limited edition means higher cost – 3 to 4 times what I had previously paid for any watch and a substantial amount over the non-limited editions.
Two different watches appeared on the Sales Corner in a short period of time. I contacted both sellers and entered into negotiations, neither of which came to fruition; however, through these initial contacts I was able to find a piece that was available and reached an agreement. In the mean time, I sold off several of my other watches to finance the effort. So, here it is!!
The box is as you'd expect for a perpetual. Solid wood, nice documentation, nifty adjusting tool, etc.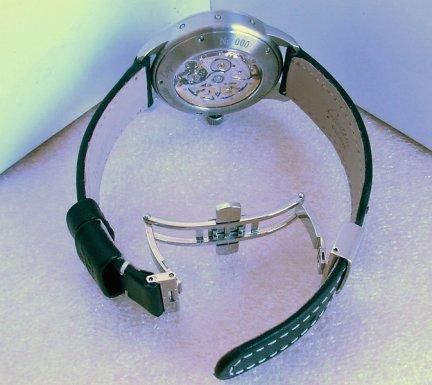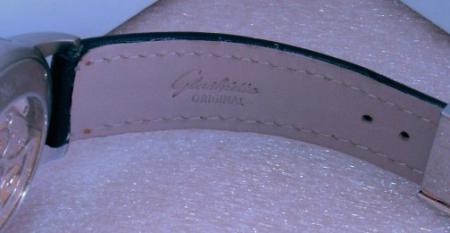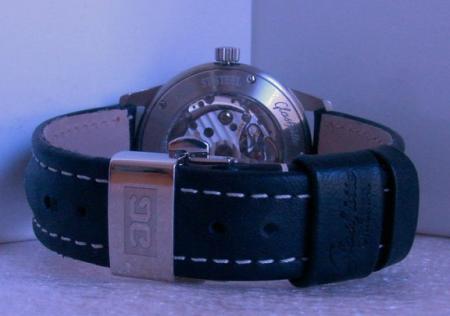 The strap and clasp are very nice. The wider 'keeper loops' on the strap definitely in keeping with the more sporting nature or the watch. I replaced the strap with a Hirsch carbon fiber strap immediately after these pictures were taken. (see below) I placed an order for the GO bracelet through someone connected well enough to get me a little discount. It took a while for the bracelet to arrive, but I think it was worth the wait.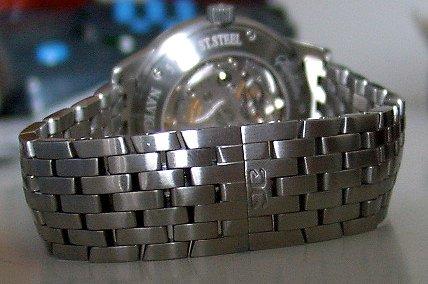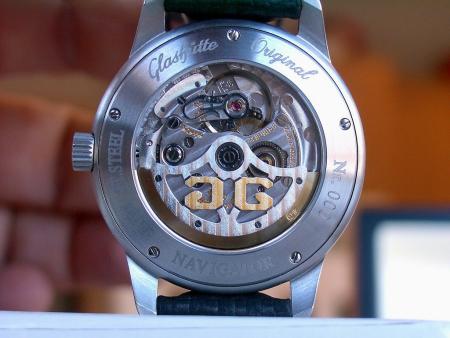 The movement is IMHO beautiful. I can't recite the technical details of it – I'll leave that for those in this forum who are more qualified. Sapphire back. 21kt rotor. Swan Neck, etc.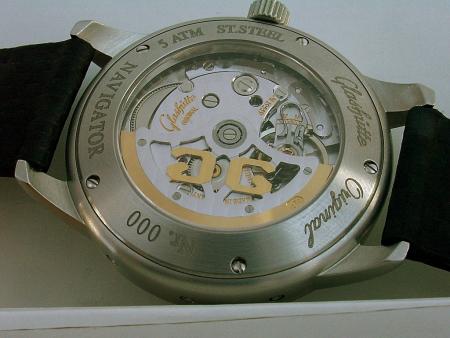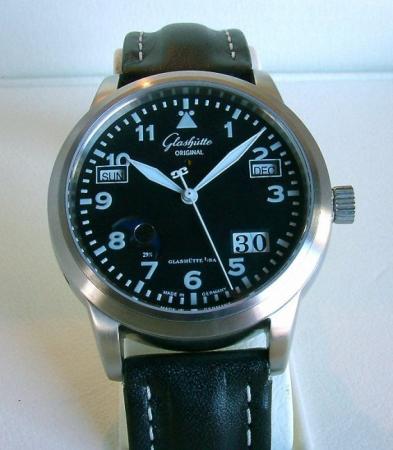 This picture shows the excellent dial layout. All indicators are very legible, even in low light. The dial itself is actually a very deep brown or charcoal color that I was unable to bring out in these photos. The luminosity is quite good as well. Even the individual minute indices are luminous. Right under the word 'Original' is the year indicator dot. You can see in this picture that it is turning from yellow to black, the other two colors being white and red for the leap year. The display shows ½ and ½ for the entire month of December.

The case is very finely finished; this is especially noticeable in the case to lug transition. I have worn the watch 3 – 4 days per week for the last 3 months and it still looks good. Whatever small signs of wear it has picked up are well hidden by the matte finish. Case Height is 12 mm, Diameter 38mm, Lug width 19.5mm.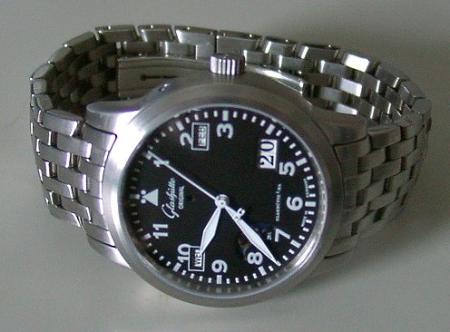 The bracelet arrived today. It is quite comfortable and adds a fair amount of heft to the watch. The end links are solid and a very tight fit; it took a little bit of work to get the spring bars to re-engage after I installed them. Two links were easily removed to fit my 7 1/2" wrist. I had been waiting for awhile for this bracelet so even though I was home sick, I had a little bit of single-malt to celebrate!
There are two completely different looks available for this watch now, with the strap being decidedly more casual than the bracelet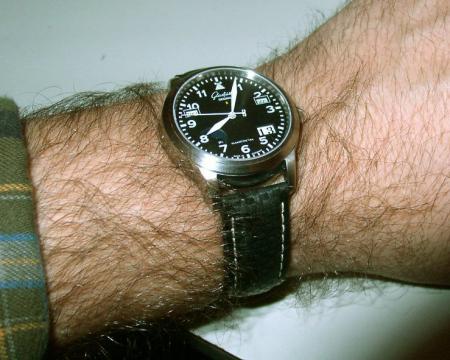 I have had this watch for 3 months and have not regretted the move at all. The watches I sold were:
Rolex Explorer II
Fortis Cosmonauts Chrono Set
Omega X33 Speedmaster
JLC Master Moon
Heuer Monza Re-edition